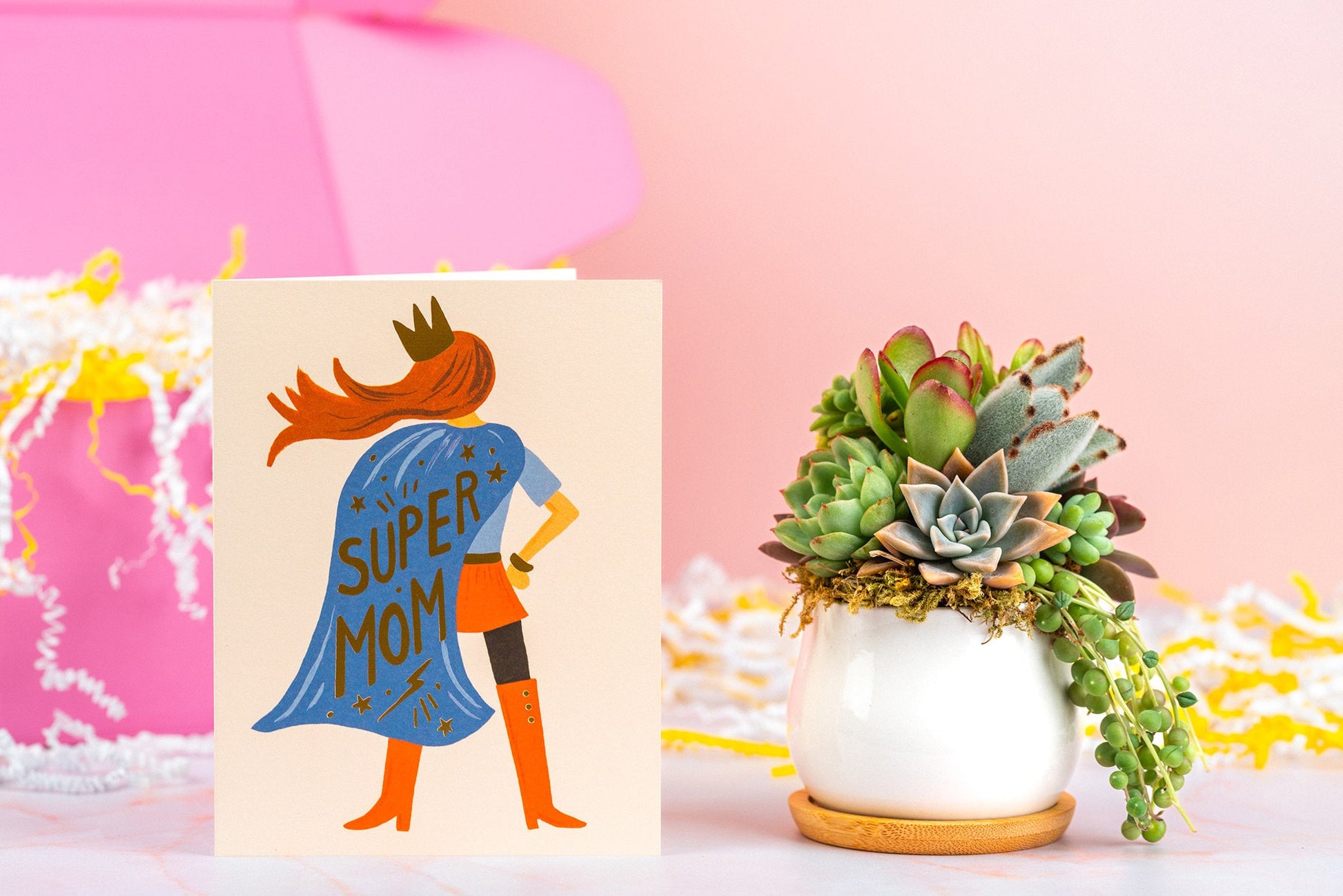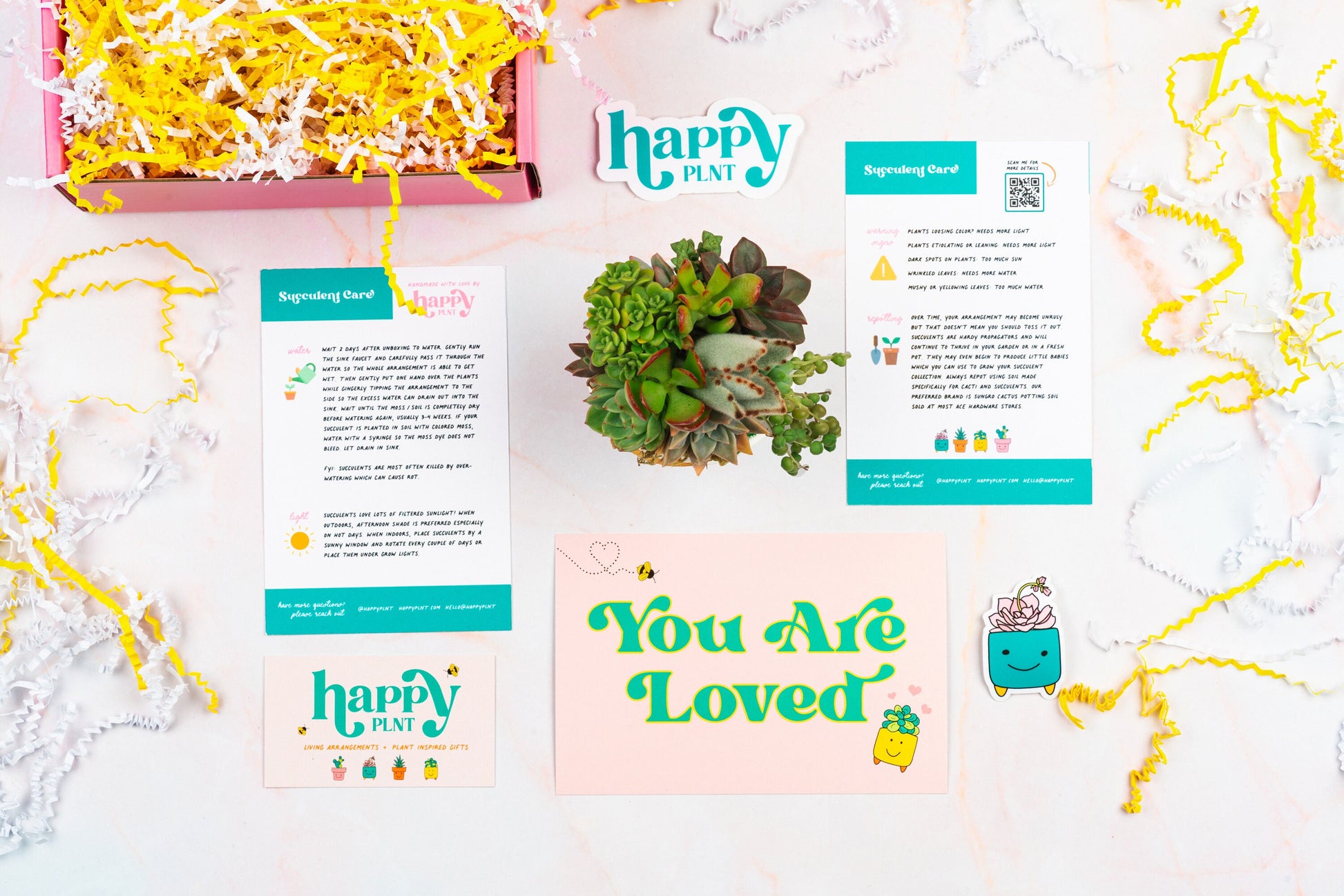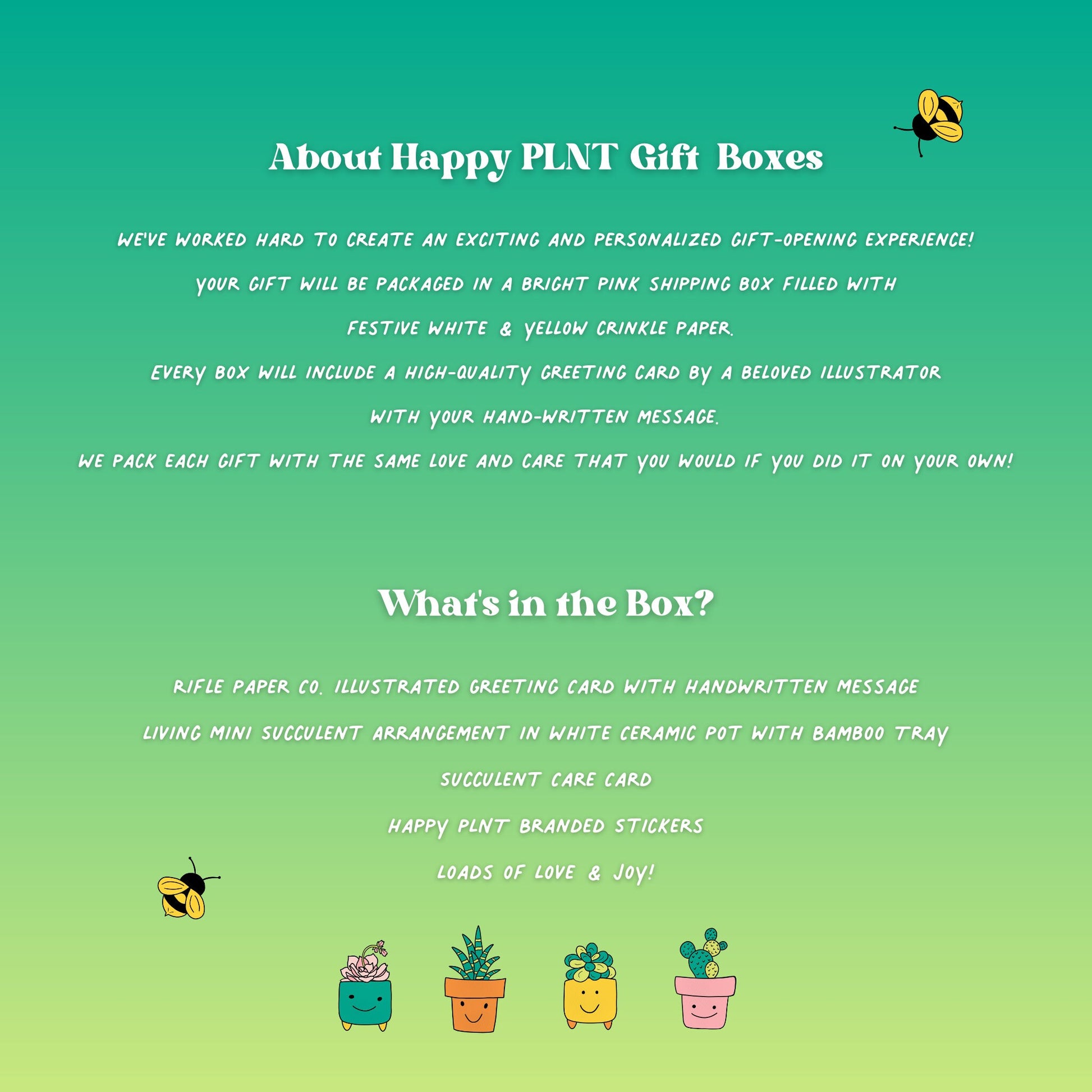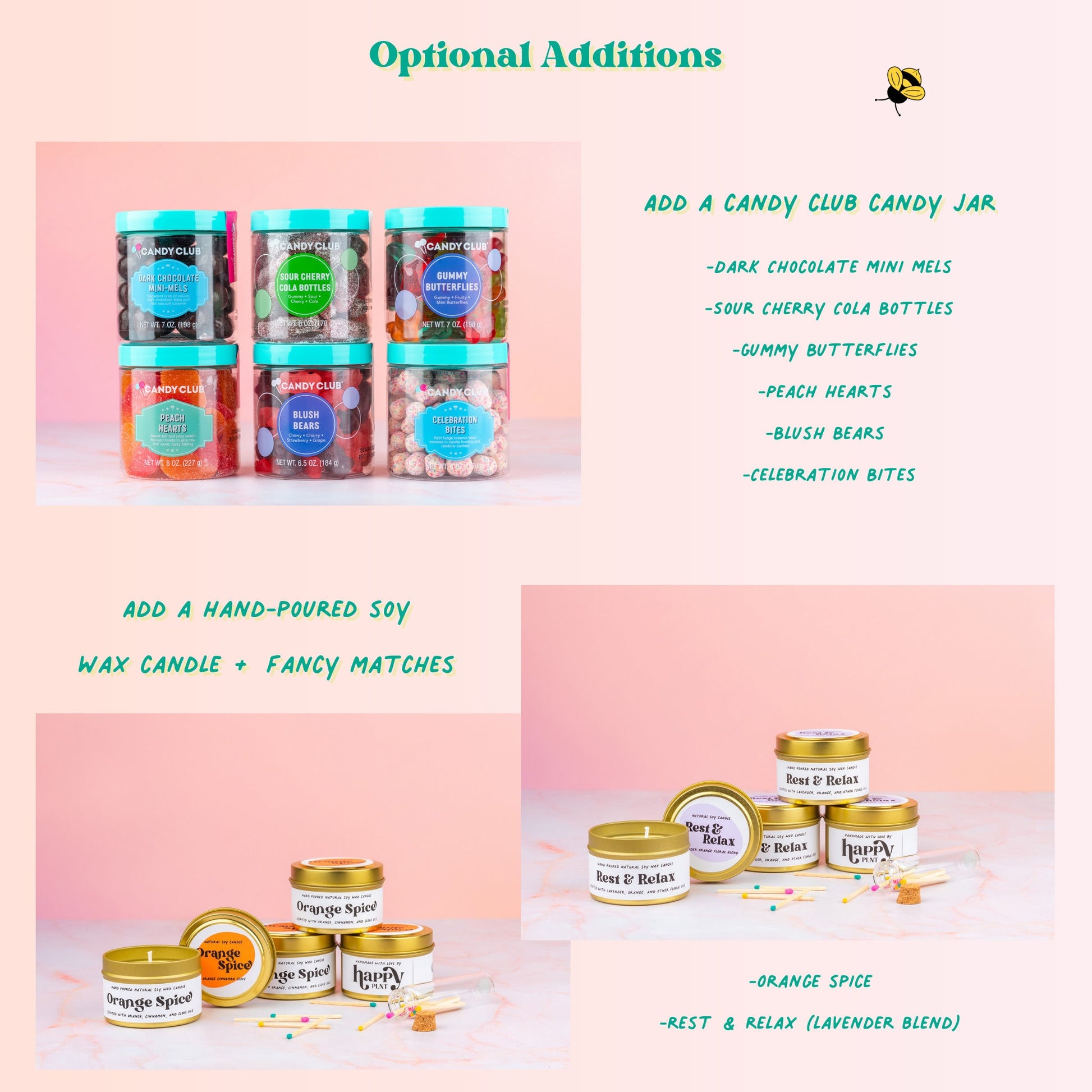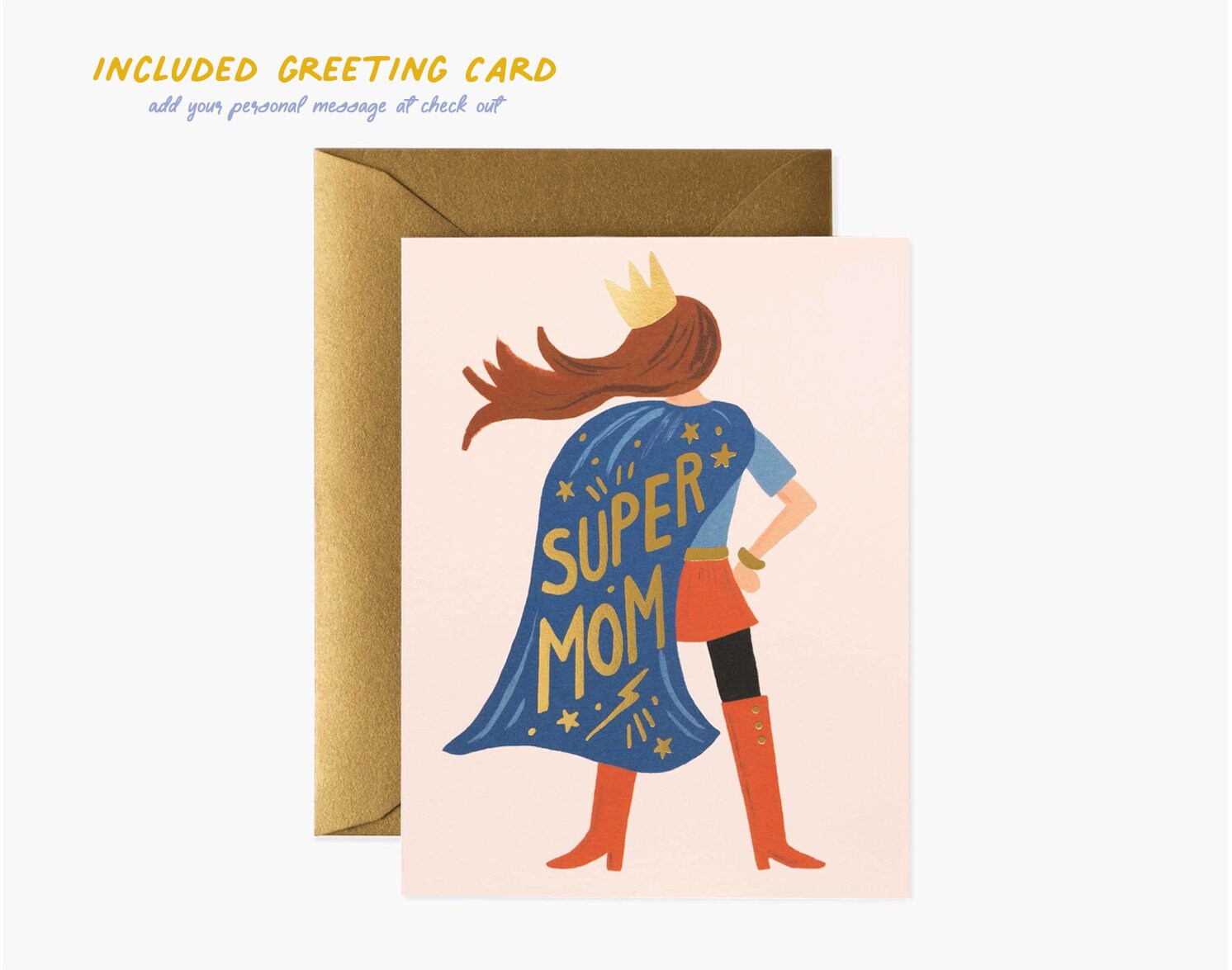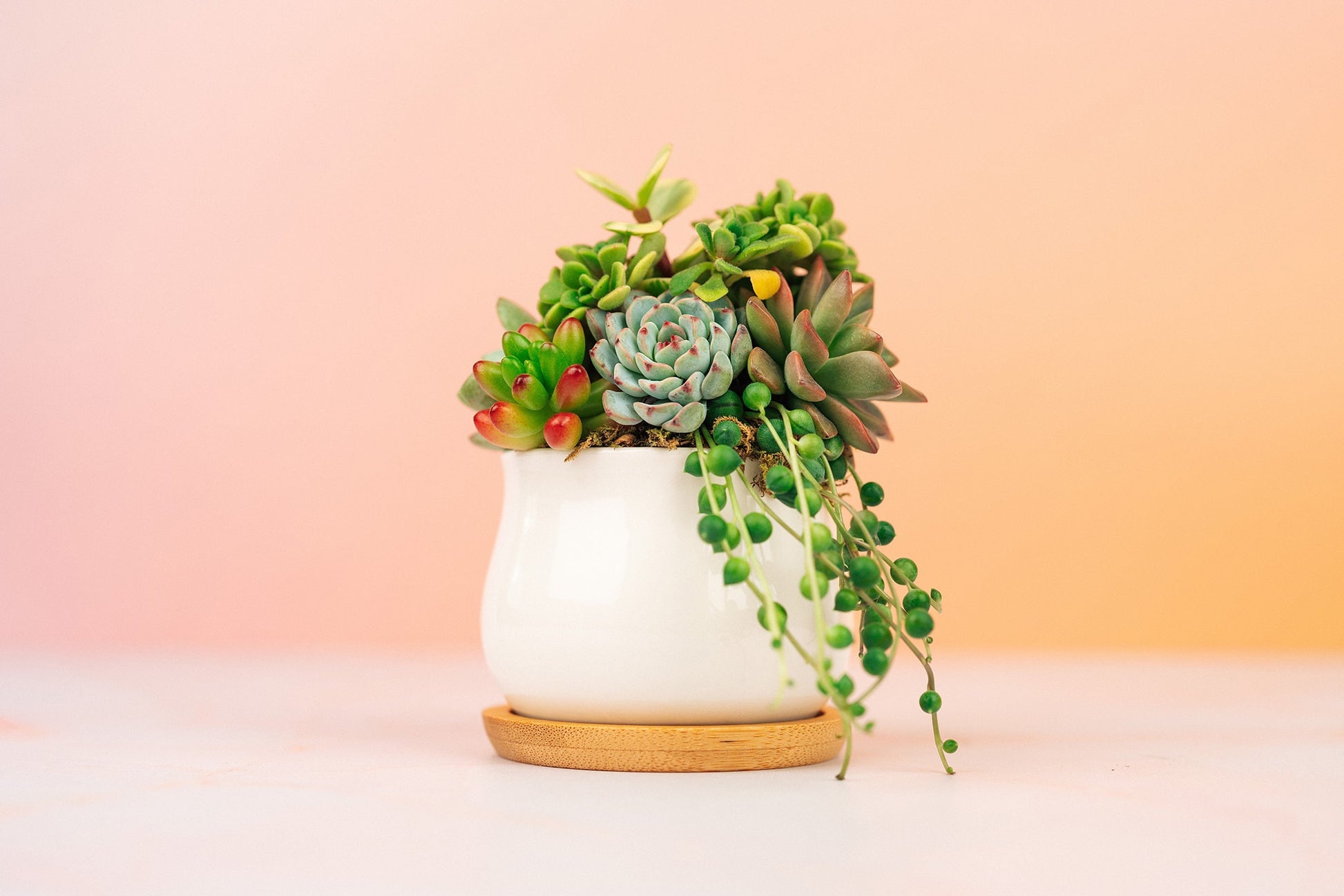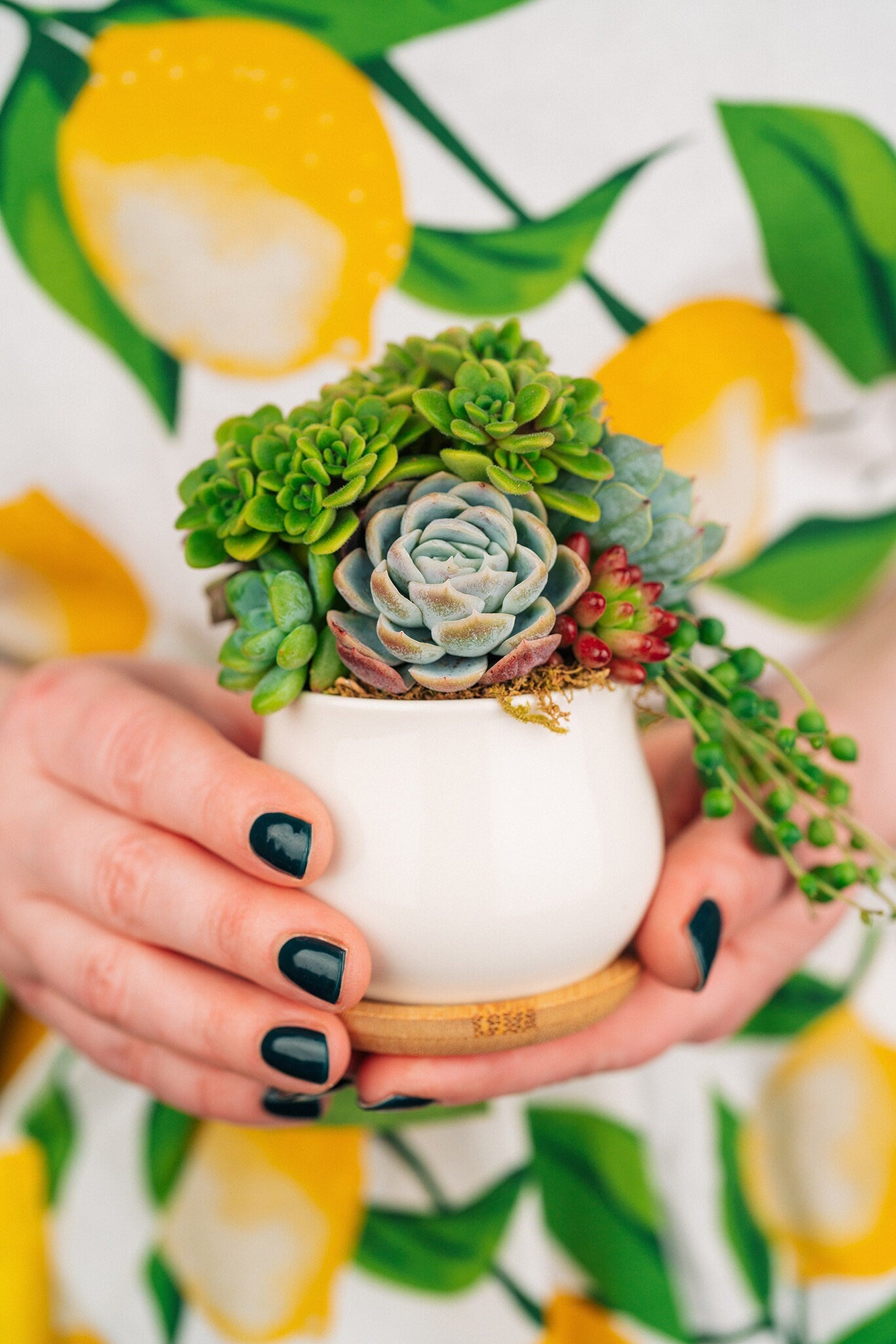 Super Mom | Mother's Day Succulent Arrangement Gift Box
Translation missing: en.products.product.price.regular_price
$54.95
Translation missing: en.products.product.price.sale_price
$54.95
Translation missing: en.products.product.price.regular_price
Production Time:Nov 29 - Dec 03

All orders shipped via USPS Priority Mail, average time in transit 1-3 days. Free shipping on all orders $35+. Express shipping available for addition fee.
Product description
Lead Times & Shipping
Care Instructions
Product reviews
Tell your mom you care with our fun and festive Happy Mother's Day succulent arrangement gift box! It's the perfect gift for the plant lover in your life!
ABOUT HAPPY PLNT GIFT BOXES:
We've worked hard to create an exciting and personalized gift-opening experience! Your gift will be packaged in a bright pink shipping box filled with festive white & yellow crinkle paper. Every box will include a high-quality greeting card by a beloved illustrator with your hand-written message. We pack each gift with the same love and care that you would if you did it on your own!
WHAT'S IN THIS BOX:
Rifle Paper Co. Illustrated Greeting Card with Handwritten Message (4.25" L × 5.5" W with envelope)
Living Mini Succulent Arrangement in White Ceramic Pot with Bamboo Tray
Succulent Care Card
Happy PLNT Branded Stickers
Loads of Love & Joy!
AVAILABLE ADD-ONS (For an additional fee):
Candy Club Candy Jar Candy Club Candy Jar (approx. 7oz)**
** All candy is processed in a facility that handles dairy, soy, egg, peanut, tree nut, and wheat products.
Candy is not safe for those with nutritional allergies.
-Dark Chocolate Mini Mels (decadent orbs of velvety dark chocolate with sea salt caramel)
-Sour Cherry Cola Bottles (gummy mini sour cherry cola bottles)
-Gummy Butterflies (gummy fruity mini butterflies)
-Peach Hearts (sweet-tart and juicy peach-flavored gummy hearts)
-Blush Bears (chewy gummy bears in cherry, strawberry, and grape flavors)
-Celebration Bites (rich fudge brownie bites covered in vanilla frosting and rainbow confetti)
Hand-poured Natural Soy Candles with Fancy Matches (4 oz Tin)
-Orange Spice (blend of orange, clove & cinnamon scents)
-Rest & Relax (blend of lavender, orange, and other floral scents)
FAQ:
WHAT KIND OF SUCCULENTS ARE INCLUDED: Succulent arrangements are made from a variety of small nursery-grown living succulents. Individually potted succulents are selected from living seasonal "fan favorites" and will be of the Echeveria (rosette) variety. All succulents are sourced from professional growers in San Diego County (we never use common, back-yard cuttings).
HOW LONG IS YOUR PROCESSING TIME: We always attempt to ship your gift box within 1-2 days of receiving your order. We ship Monday-Thursday. If you would like your order to ship on a specific date, just let us know in the "notes to seller" area and we'll adjust the ship date on our side.
HOW ARE YOUR ORDERS SHIPPED: Fast Shipping is our Standard! We want to make sure your living gift arrives quickly and healthy which is why USPS Priority Mail is our preferred method of shipping. Transit time is 1-3 days depending on location. USPS Express (overnight) shipping is offered at checkout for an additional fee. If you require a different carrier to deliver your package please let us know in the "notes to seller" area at checkout.
DO YOU INCLUDE A RECEIPT OR PACKING SLIP IN THE GIFT BOX? No. We treat every order as if it is a gift and will never include any financial information in the box. It is very important that you include your gift message with your name in the area provided and double-check that the shipping address is correct before placing your order so there isn't any confusion on the receiver's side. We are not responsible for packages shipped to the wrong address due to a buyer's mistake.
DO YOU OFFER RETURNS: No. Due to the customizations of gifts and the fragile nature of living plants, we do not offer returns or exchanges. It is the buyer's responsibility to verify the shipping address and confirm that the receiver will be available to receive the gift upon arrival. Once we deliver your order to the post office, we are no longer responsible for the package.
WHAT IF MY ORDER ARRIVES DAMAGED? Your satisfaction is very important to us! Please reach out within 48 hours of receiving it to let us know. Include product and packaging photos with your message to help explain the issue. We will work with you to find the best solution.
MY PACKAGE IS DELAYED/LOST/DELIVERED BUT CAN'T FIND IT? Unfortunately, we have no control over what happens to our packages once we deliver them to the post office. We can not guarantee a specific delivery date and are not responsible if a package is delayed by the shipper. The buyer will receive an email with tracking information automatically when each package is shipped and it is the buyer's responsibility to track the shipment's progress and make sure it is received by the recipient in a timely manner. If a package is lost you'll need to work directly with the local mail carrier to find the package. We are not responsible for package theft, you'll need to contact your local police to report your package stolen. In our experience, missing packages often arrive within a day or two of being missing or are sometimes left with a neighbor. If a package is returned to us, we are happy to re-ship your package if the buyer pays for the additional shipping costs.
IS THERE ANY GIFT ASSEMBLY? DO YOU PROVIDE CARE INSTRUCTIONS? Unless the items specifically states it's a "kit" all arrangements and potted succulents ship fully assembled and ready to enjoy. Each box includes a care card with instructions for keeping the living plants healthy.
I NEED TO ORDER MULTIPLE BOXES, IS THERE ANY EASY WAY TO DO THAT? You'll need to place a unique order for each shipping address. If you are sending more than 5 gifts to different addresses, please reach out for access to our shipping spreadsheet where you can enter details for each gift including the recipient's address and gift message. We'll create one bulk invoice for you and send tracking for individual gifts via email. For more information email giftshop@happyplnt.com or send us a message on Etsy.
DO YOU OFFER CORPORATE-BRANDED GIFTS? Yes! We can personalize our gift boxes in a number of ways to match your company branding and messaging. Some options include adding a company logo decal or branded wooden plant spike to the pots, branded greeting cards, or matching brand colors with packaging. Please send us a message or email giftshop@happyplnt to discuss your ideas!
WARNINGS: Please note that all candy is processed in a facility that handles dairy, soy, egg, peanut, tree nut, and wheat products and may not be appropriate for people with nutritional allergies. All gifts are intended for human adults and should not be given to young children or animals because contents may be dangerous if used or consumed improperly.
Free shipping on orders $35+ All orders are hand crafted and made to order. Please allow 1-3 business days for production depending on demand. We ship USPS Priority mail by default which averages 1-3 days in transit depending on your location. We also offer local delivery to most of San Diego County on Tuesdays and Fridays.
ORDER PRODUCTION TIME:
We aim to create and ship our orders quickly but please remember that all items are made to order. It take 1-3 business days for us to construct your arrangement after we receive your order.

SHIPPING TIMES:
We ship Monday-Thursday. Fast shipping is our STANDARD! By default, we ship via USPS Priority Mail. Average transit time is 1-3 days depending on your location. Express shipping is offered at checkout for an additional fee.

SHIPPING COST:
Orders $35 or more ship USPS Priority Mail for FREE. Express Mail options are available for an extra fee. Shipping cost on orders lower than $35 is calculated at checkout.

LOCAL DELIVERY:
We deliver locally on Tuesdays and Fridays, with the exception of major holidays. A $50 minimum order is required for local delivery. Local delivery costs $7-$25 depending on location. Local delivery is offered within a 20 mile radius of our shop in La Mesa, zip code: 91942. Read more about our delivery area here.
Tuesday Deliveries: Any order placed between Wednesday after 2pm through Sunday at 2pm PST will be delivered on Tuesday.
Friday Deliveries: Any order placed by Sunday after 2pm through Wednesday at 2pm PST will be delivered on Friday.
2023 HOLIDAY CUT-OFF TIMES:
Halloween: Place order by Tuesday, October 24th, 8 pm PST
Thanksgiving: Place order by Thursday, November 16th, 8 pm PST
Christmas: Place order by Tuesday, December 19th, 8 pm PST
Unbox your order immediately! Your succulents have been sitting in the dark for a few days and they are desperate for some sunlight!
LIGHT: Place your arrangement where it will receive at least 4 hours of bright light a day, preferably morning light. Rotate frequently so all sides of your arrangement get enough sun. If you notice your succulents etiolating or losing vibrancy it's because they not receiving enough light. Avoid harsh high-noon summer sun which can burn your plants.
WATERING: In most cases, watering less is best with succulents. It's far more common to kill succulents from over-watering than under-watering. They can go 3-4 weeks in between watering. Make sure the soil/foam/moss is completely dry before watering. During the growing season and warmer months, you may want to water more and water less in the winter or when your plants are dormant. When it's time to water, we prefer using a directional water bottle to thoroughly dampen the moss and soil that the succulents are adhered to. Avoid letting water pool in the center of rosette succulents or use a manual air blower to dry them off to prevent rot. You can add products to care for your arrangement from our store here.
TEMPERATURE AND HUMIDITY: Succulents prefer average to warm temperatures and average humidity. In dry areas, you can run a humidifier to help keep your plants happy. Succulents do not do well in hot summer heat which can burn your plants. They also can not tolerate cold and freezing temperatures.