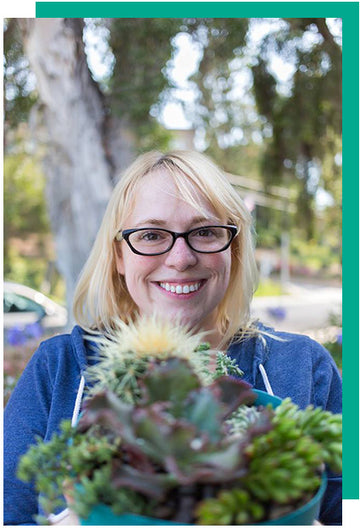 It started with a tiny plant obsession.
the Happy PLNT story
Happy PLNT is a long-time vision come to life. As an artist, I'm always looking for ways to satisfy my creative bug. I've worn a lot of different "hats" in my adult life. I studied Architecture, was a lighting designer, a photographer, and a graphic designer but nothing has been as fulfilling as working with these odd little plants that I discovered when I moved from the East Coast to San Diego. I instantly fell in love with this city and the Southern-California lifestyle... soaking up all the sun and nature. I've been walking around in awe discovering this beautiful place and all the alien-like plants that grow here ever since.
When I saw my first succulent, it was OVER! I was in love and I was obsessed! I had never seen anything like them growing up on the East Coast... so many different shapes, colors, and styles. They captured my imagination as nothing has in my life and I spent years collecting, growing, and creating unique arrangements as a hobby while I continued working as a photographer and graphic designer. I always had this pipe dream of starting a succulent floral business but the timing never seemed right to start something new. When the pandemic hit in early 2020, it forced me to slow down and reflect on what I wanted for my life. I had time to explore some of the projects I had put on the back burner including digital illustration, interior design, and my love for these super special plants. And so Happy PLNT was officially born. It's a combination of all my loves and creative skills. It's in its infancy and I'm honestly not sure what direction this company will take me but I'm so excited to ride this journey as a happy and crazy plant lady!