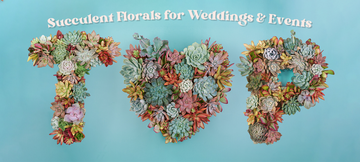 Guest Favors & Client Gifts
Give your guests something to remember your event with our small succulent pots. Customize further with colored moss topping, mini signs, or branded content.
Translation missing: en.products.product.price.regular_price
$8.95
Translation missing: en.products.product.price.sale_price
$8.95
Translation missing: en.products.product.price.regular_price
Translation missing: en.products.product.price.regular_price
$6.50
Translation missing: en.products.product.price.sale_price
$6.50
Translation missing: en.products.product.price.regular_price
Custom Requests Welcomed
Have an idea you want to bring to life? Want to add some personalization to your order? Let's Talk!
These arrangements are examples of current stock. Custom orders are welcomed but require a minimum of three months to plan. HappyPLNT can also work in partnership with traditional cut-flower florists to create a hybrid floral/succulent event.
Small Centerpieces
Our small succulent arrangements are approximately 4" to 6" in diameter and are the perfect size for high boy cocktail tables or tables with 4-6 place settings.
Medium Centerpieces
Our medium succulent arrangements are approximately 6" to 10" and the perfect size for tables with 6-10 place settings.
Long & Narrow Centerpieces
Our long and narrow succulent arrangements are rectangular or boat shaped and range in length from 10" to 20". Larger options available for local clients.
Succulent Monogram Signage
Create a custom living sign for your event using our line up of letters, shapes, and numbers. Available in 12" and 18" sizes, the possibilities are endless.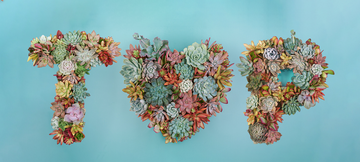 FAQs
Find anwsers to our most commonly asked questions below.
Can I order different containers for my succulent centerpieces?
Absolutely! We have many special order options to share with you. A minimum of three months is usually required for all custom orders.
Can you customize my order to match my event color pallet?
Yes! Succulents come in almost every color in the rainbow! Common color themes are dark & moody, shades of blues & purples, pastels, and vibrant warm tones. The possibilities are endless.
How much time is needed to prepare my order?
Depending on the quantity needed and availability, most of our standard stock items can be prepared within three weeks of placing your order. Custom container orders and special requests typically need a minimum of three months to prepare. The more time you allow the better. Rush orders for an additional fee may be available. We always try our best to meet our client's requests so please reach out if you have questions or need something sooner to hello@happyplnt.com.
Do you offer on-site set up on the event day?
The wonderful thing about working with succulents is we do not have to worry about them dying within a week or purchasing. For that reason, we typically deliver or ship orders one to two weeks before the event which means we can work with clients all over the United States. If you are hosting an event in San Diego or the greater Southern California area, white-glove setup is available for orders over $3000 for an additional fee. We'll determine the best delivery method and timing after we talk about your event.
How do I work with HappyPLNT for my event?
To get started, please send us an email to hello@happyplnt.com. Please include the event date, location, and any other important information about your plans. Feel free to include links to inspiration boards and photos. From there, we'll set up a time to chat on the phone or Zoom to go over your needs and ideas. After that, we'll provide a detailed quote for our services. If you agree, we'll send you a booking proposal to make it official with a contract. At this time you'll pay your first retainer for your order. Around six weeks before your event, we'll go over everything and make any last-minute adjustments to finalize your order. Four weeks before the event, your final balance is due. We'll begin preparing your order two to three weeks before your event to ensure maximum freshness. Your order will then be ready for pick-up, shipped, or delivered anywhere from two weeks before to the day of the event depending on what option you choose.
Do you offer trade discounts or work directly with event professionals?
Yes! We love to work with other florists and industry professionals. We can offer white label products, branded products, or collaborate to create a unique event design for your client. Please reach out to hello@happyplnt.com to learn more about our trade discount program. Seller's permits are required for trade orders.