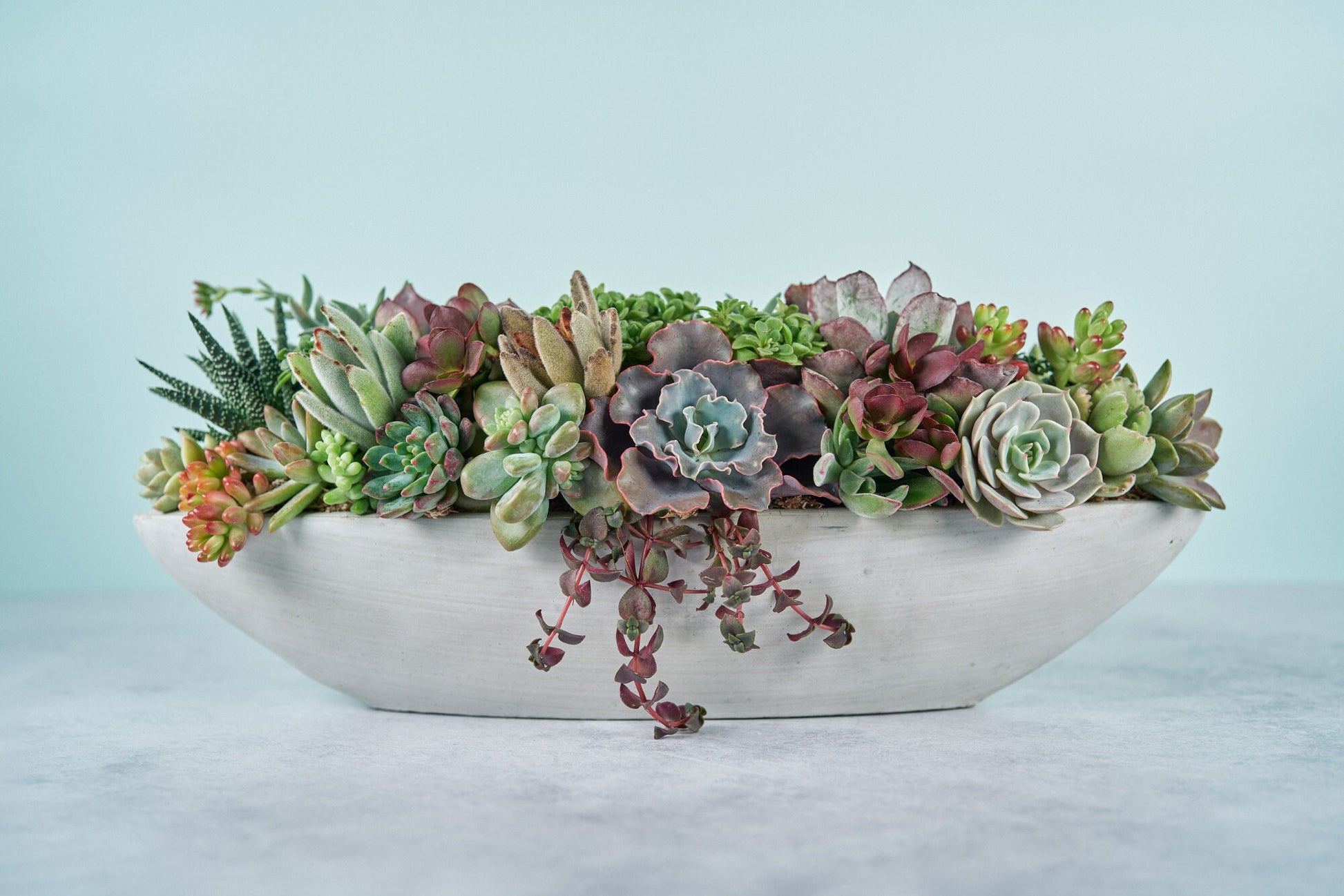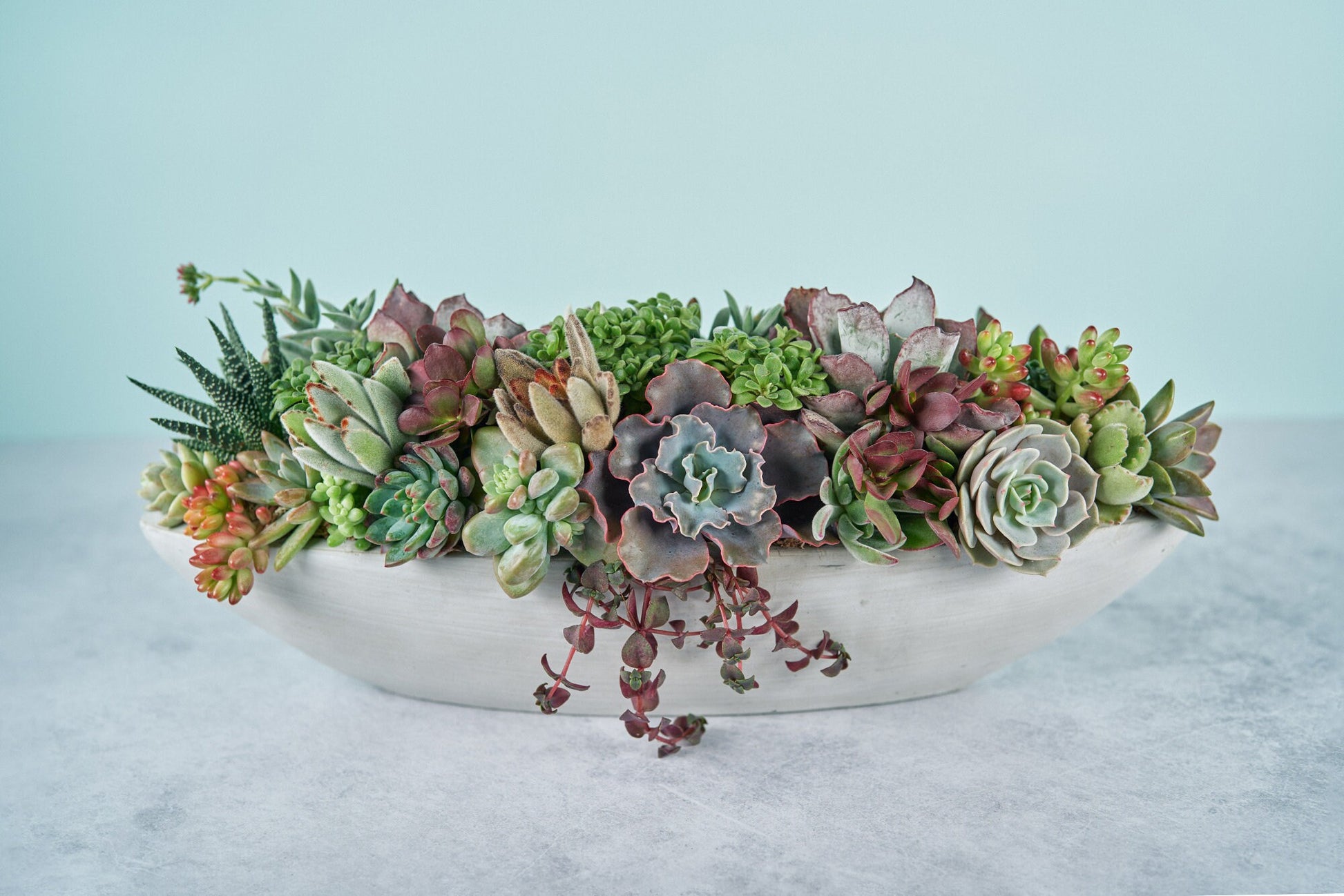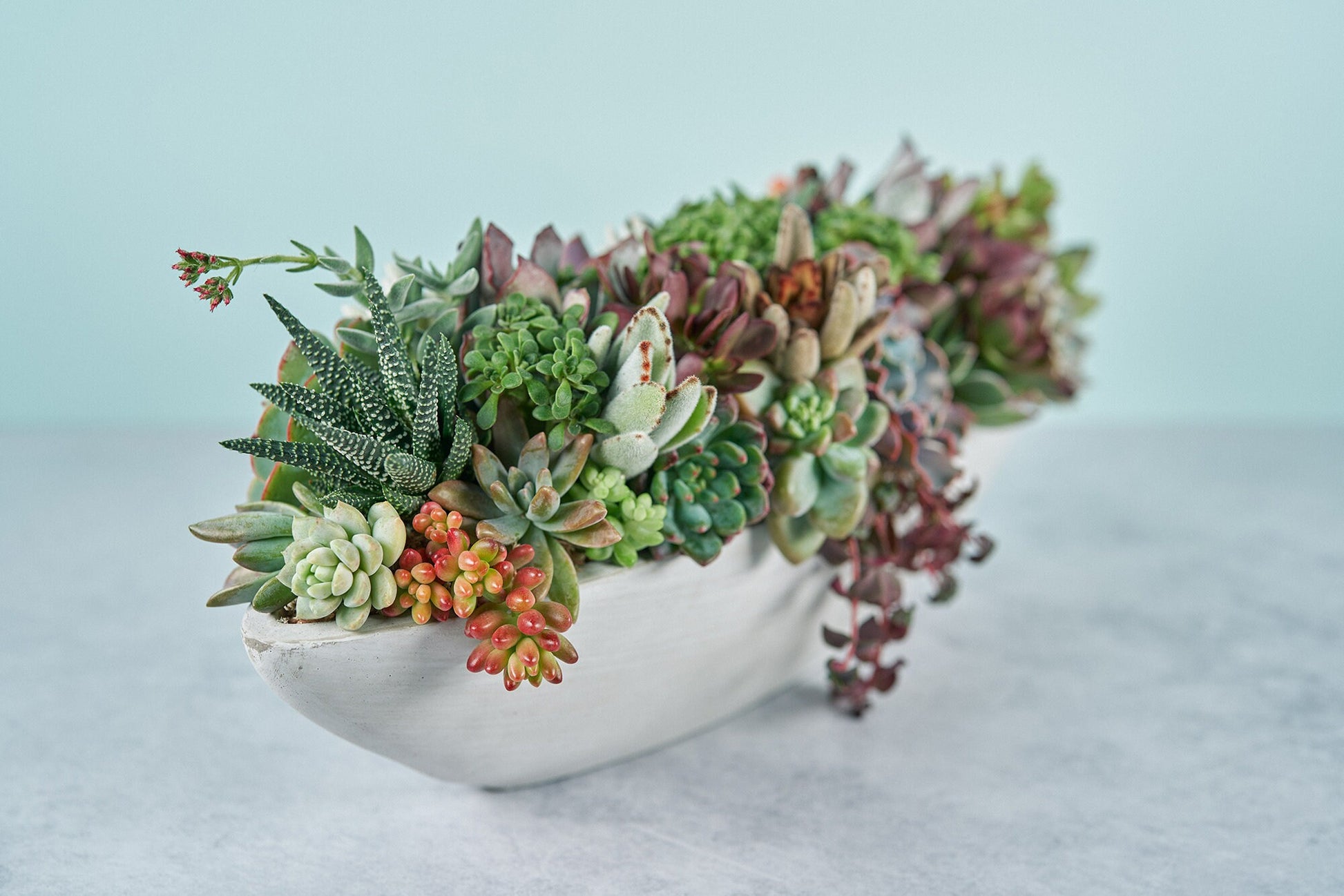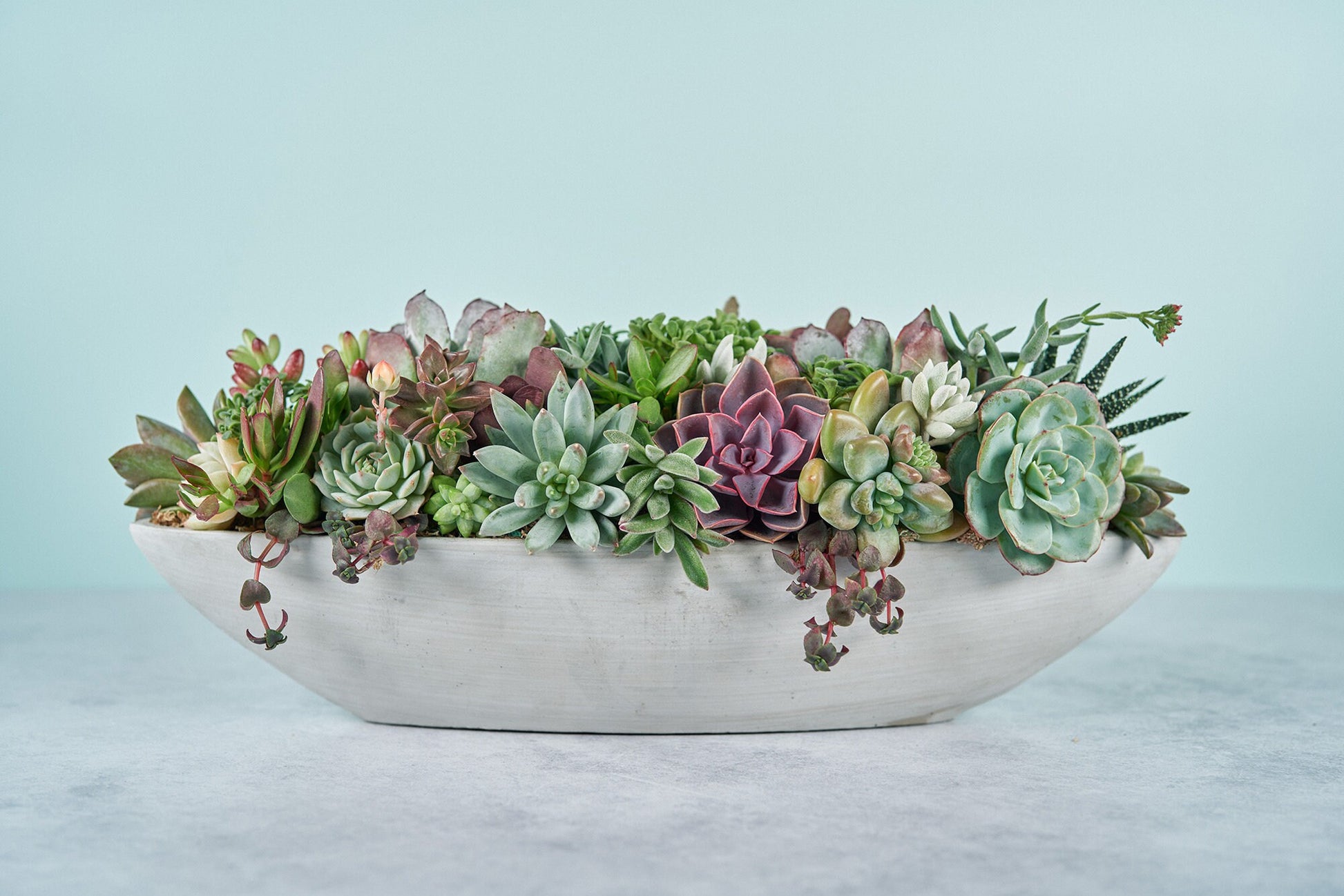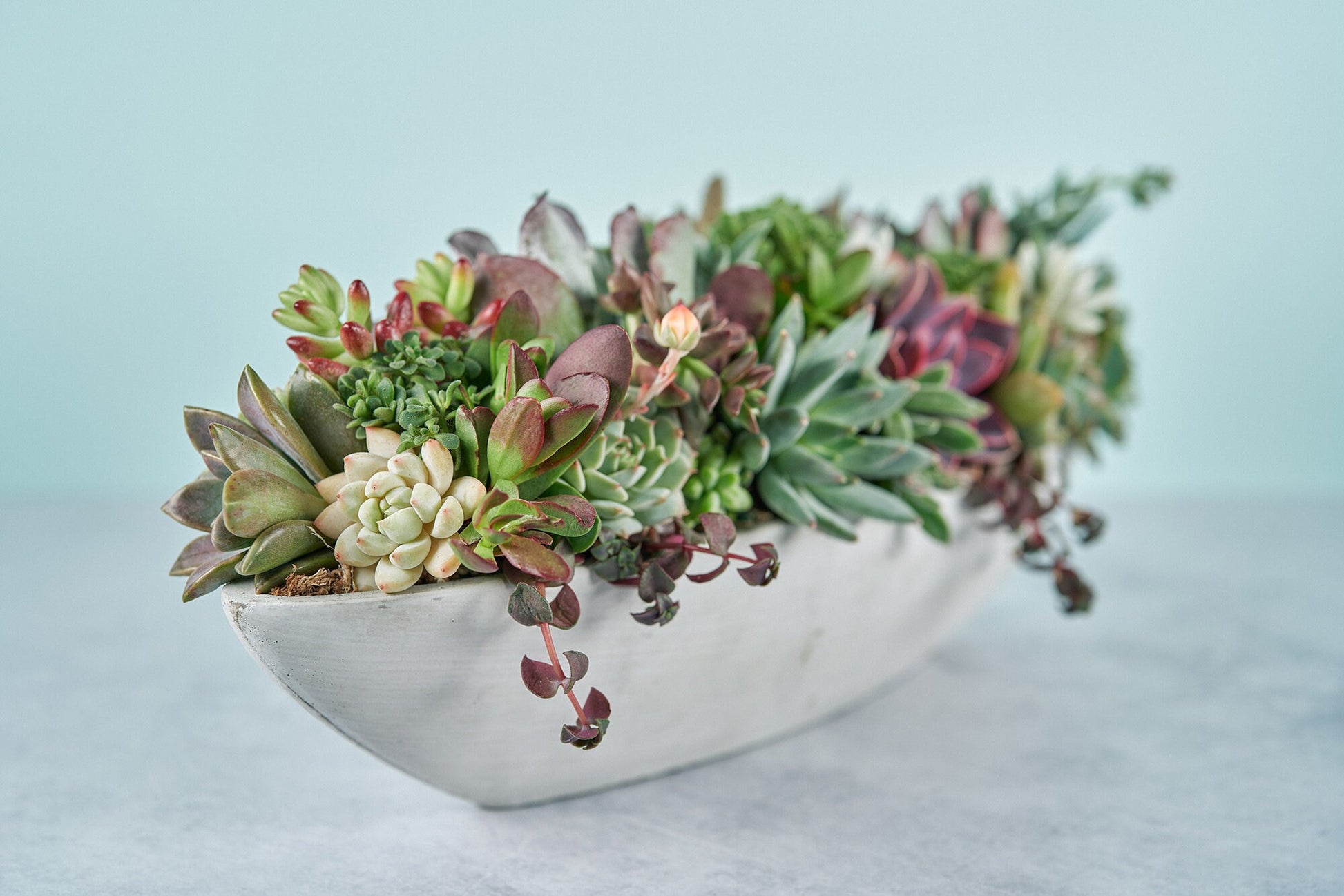 Long Cement Boat Succulent Arrangement Planter
Translation missing: en.products.product.price.regular_price
$234.95
Translation missing: en.products.product.price.sale_price
$234.95
Translation missing: en.products.product.price.regular_price
Production Time:Nov 29 - Dec 03

All orders shipped via USPS Priority Mail, average time in transit 1-3 days. Free shipping on all orders $35+. Express shipping available for addition fee.
Long Cement Boat Succulent Arrangement Planter
Translation missing: en.products.product.price.regular_price
$234.95
Translation missing: en.products.product.price.sale_price
$234.95
Translation missing: en.products.product.price.regular_price
Product description
Lead Times & Shipping
Care Instructions
Product reviews
Long modern gray cement/concrete boat planter bursting with a variety of colorful succulents. A perfect centerpiece size for larger long/rectangle tables. Pair with our other concrete succulent arrangements to create a complete earth-friendly event design with plants that will grow indefinitely in their pots or can be replanted after the event, a great alternative to flowers! This succulent arrangement can be sent as a gift or used to decorate a wedding, baby shower, reception, corporate event, your home, and more! We design our arrangements to look amazing and unique from every angle. By default, our arrangements feature a variety of succulents in different colors, shapes, and sizes. However, every arrangement is made to order so if you would like a design in a particular color pallet (examples: pastels, shades of blue, dark and moody, bright and cheery) or have other preferences please let us know in the notes of your order and we'll do our best to accommodate you. Custom requests may require longer production times.
DETAILS:
SIZE: 18" x 8" x 4"
PLANTER: Light gray 18" long concrete planter (18X4X4). Please note that due to the nature of concrete, these containers will all have some scuffs or imperfections. Often they can be buffed out with a damp cloth. Does not include a drainage hole so will require less watering.
SUCCULENTS: Living succulents are attached to moss-covered floral foam with floral pins. The sphagnum moss will provide your living succulents with the nutrients they need to grow healthily. This arrangement will last for seasons and the plants can have a second life in your garden once they've grown out of the container. Each arrangement will feature a minimum of 12 different succulent varieties. Each planter is made to order using in-season succulents grown locally in San Diego county. No two will be the same! Want something special, please send us a message or add a note to your order at checkout.
GIFT? If your order is a gift and you would like to include a note to the recipient, please leave a note with your message when you check out. Once you place your selection in the cart, you will see an option to add a note. We'll include a complimentary small card with your message.
Care instructions will be included with your order.
Free shipping on orders $35+ All orders are hand crafted and made to order. Please allow 1-3 business days for production depending on demand. We ship USPS Priority mail by default which averages 1-3 days in transit depending on your location. We also offer local delivery to most of San Diego County on Tuesdays and Fridays.
ORDER PRODUCTION TIME:
We aim to create and ship our orders quickly but please remember that all items are made to order. It take 1-3 business days for us to construct your arrangement after we receive your order.

SHIPPING TIMES:
We ship Monday-Thursday. Fast shipping is our STANDARD! By default, we ship via USPS Priority Mail. Average transit time is 1-3 days depending on your location. Express shipping is offered at checkout for an additional fee.

SHIPPING COST:
Orders $35 or more ship USPS Priority Mail for FREE. Express Mail options are available for an extra fee. Shipping cost on orders lower than $35 is calculated at checkout.

LOCAL DELIVERY:
We deliver locally on Tuesdays and Fridays, with the exception of major holidays. A $50 minimum order is required for local delivery. Local delivery costs $7-$25 depending on location. Local delivery is offered within a 20 mile radius of our shop in La Mesa, zip code: 91942. Read more about our delivery area here.
Tuesday Deliveries: Any order placed between Wednesday after 2pm through Sunday at 2pm PST will be delivered on Tuesday.
Friday Deliveries: Any order placed by Sunday after 2pm through Wednesday at 2pm PST will be delivered on Friday.
2023 HOLIDAY CUT-OFF TIMES:
Halloween: Place order by Tuesday, October 24th, 8 pm PST
Thanksgiving: Place order by Thursday, November 16th, 8 pm PST
Christmas: Place order by Tuesday, December 19th, 8 pm PST
Unbox your order immediately! Your succulents have been sitting in the dark for a few days and they are desperate for some sunlight!
LIGHT: Place your arrangement where it will receive at least 4 hours of bright light a day, preferably morning light. Rotate frequently so all sides of your arrangement get enough sun. If you notice your succulents etiolating or losing vibrancy it's because they not receiving enough light. Avoid harsh high-noon summer sun which can burn your plants.
WATERING: In most cases, watering less is best with succulents. It's far more common to kill succulents from over-watering than under-watering. They can go 3-4 weeks in between watering. Make sure the soil/foam/moss is completely dry before watering. During the growing season and warmer months, you may want to water more and water less in the winter or when your plants are dormant. When it's time to water, we prefer using a directional water bottle to thoroughly dampen the moss and soil that the succulents are adhered to. Avoid letting water pool in the center of rosette succulents or use a manual air blower to dry them off to prevent rot. You can add products to care for your arrangement from our store here.
TEMPERATURE AND HUMIDITY: Succulents prefer average to warm temperatures and average humidity. In dry areas, you can run a humidifier to help keep your plants happy. Succulents do not do well in hot summer heat which can burn your plants. They also can not tolerate cold and freezing temperatures.